Health rules and regulations

Description
Welcome To Cairns Wake Park , the tropical North Queensland's one !
Cairns Wake Park offers a unique watersport experience to the young and old. Beginner to Advanced can have fun and a sense of achievement through a well designed and safe activity. All beginner equipment is provided, ranging from kneeboards to wakeboards as well as life jacket and helmet.
The Wake Park is suitable for ages 10 and above, however, Grom Sessions run on Saturday mornings and Kids Club sessions are run during Queensland School holidays aimed at children 7-12 years old.
Aquapark
Aquapark type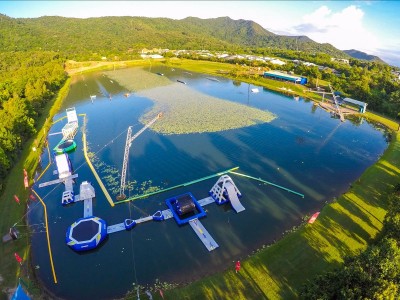 Environment : Lake
Public type : Children | Adults
Minimum age : 6 ans
Advice level swim : Beginner
Physical conditions required : bonne
Brand : Aquaglide
Model : L
Capacity : 50
Quantity : 1
Lifeguard tower : 1
Peak : 1
Rock : 1
Action tower : 1
Balance team : 1
Hurdle : 1
Bouncer : 1
Dome : 1
Flip : 1
Bridge : 1
Cliff : 1
Ice tower
: 1
Monkey bars
: 1
Included
JacketWetsuitHelmet
Wakeboard & Waterski cable
Modules
1 Kickers
1 Box
Structures
1 Goofy
Services
Disabled access

Parking

WIFI

Showers

Locker

Equipment rental

Coaching

School

Association

Shop

Restaurant

Hotel

Multilingual

Swimming area
Videos
On mobile, double click to switch to full screen and exit
Accommodations near your activities
Accommodations near your activities