Health rules and regulations
The Pyla-sur-Mer sailing circle is open in compliance with health rules. The opening date of the season is 02/23/21.
Description
Our club is located in the south-west of Bordeaux, on the edge of the magnificent Arcachon basin.
This geographical situation offers us the possibility of sailing a long part of the year, bounded to the south by the famous dune of Pyla, to the west by Cap-Ferret and to the north by the bird island.
The club offers two schools:
Sports school

: Trainings are carried out in groups, under the supervision of qualified instructors in order to perfect you in the practice of sailing and to introduce you to regatta.

Competition team

: Tactics, adjustment, speed are the bases that you want to develop, our coaches will supervise you in order to make you climb on regional and national podiums.
We have different equipment: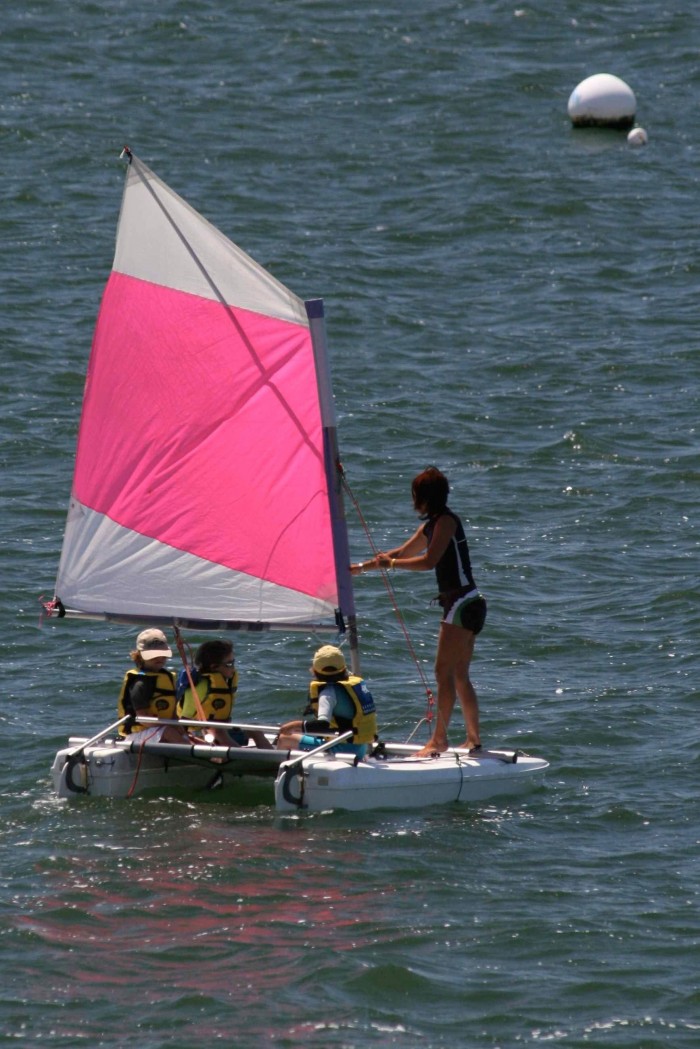 For the little ones (4 to 6 years old) the Jardin des Mers offers a
first playful approach of the marine environment but of sailing in particular.
Perfect to start in the field, it will quickly allow
to become familiar with the elements that surround them.
For 7 to 12 year olds the club offers the optimist. Its simple hull
flat bottom and its unique sail make it a stable and easy to maneuver boat.
It is the boat that we find in all schools for learning.
Even the champions started on it!
For 12 to 15 year olds the club also offers
Topaz 14.
Fun, easy to manage, it presents a great
buoyancy. It is a light and playful machine
allowing a practice
both in sailing school and in preparation
regatta.
For adults the club has Topaz 16.
Topaz 16 is particularly studied to meet 3 important criteria
1 / Efficient: Hulls designed for upwind performance,
a well-centered anti-drift plan to facilitate transfers
edges, volume well distributed for navigation safety.
2 / Ecological: No toxic product emanations at the
manufacturing, recyclable.
3 / Resistant: Its solid and light rotomolded shells as well as its
Profiled rudders make it a catamaran of finesse
impressive.
And finally from 10 years and up to no age, windsurfing.
The club has a whole armada of boards and sails
adapted to the level of each practitioner. This goes from the plank
from beginner to funboard and sails ranging from 1.7 m2 for
the smallest to 7.5 m2 for the large ones.
Windsurf
Prestations type
RentalInitiationCamps
Difficulties of the spot
Easy
Public type
ChildrenAdults
Sail - Yachting
Prestations type
RentalInitiationCamps
Difficulties of the spot
Easy
Public type
ChildrenAdults
Services
Disabled access

Parking

WIFI

Showers

Locker

Equipment rental

Coaching

School

Association

Shop

Restaurant

Hotel

Multilingual

Swimming area
Videos
On mobile, double click to switch to full screen and exit
Accommodations near your activities
Season
From 22/02/2021 To 01/09/2021
Working hours (Current season : From 22/02/2021 To 01/12/2021)
Tuesday

09:00 - 17:30

Wednesday

09:00 - 17:30

Thursday

09:00 - 17:30

Friday

09:00 - 17:30

Saturday

09:00 - 18:00
Accommodations near your activities