Description
Bienvenue chez eXtrem Ride Park !
Situé sur le Lac des Bonnets, eXtrem Ride Park est la Top destination pour les loisirs de plein air et sorties sportives en famille autour de Toulouse !
Au cœur d'une nature préservée, toute l'équipe vous invite à découvrir, entre amis ou en famille nos activités à sensations.
OFF-AXIS WAKE, le 1er Le téléski nautique bi-poulie Toulousain , parfait pour s'initier aux joies de la glisse ! Mais aussi ; l'incontournable Waterjump à cinq rampes, les populaires Stages Motos/Quads Kids ou encore le très prisé Blob Jump, pour ne citer qu'eux, sauront satisfaire petits et grands.
Quant à ceux qui cherchent avant tout à se détendre et à peaufiner leur bronzage tout en sirotant leur rafraîchissement, rassurez-vous ! Les 200m de plage au sable blanc judicieusement complétée par un snack-bar façon guinguette ainsi que de nombreux autres services de qualité (Aires de jeux, Chill-zones,..) vous aideront à trouver soleil et repos.
Entourés d'un paysage exceptionnel grâce aux pics Pyrénéens à l'horizon,
vous tenez simplement LA meilleure découverte de VOS vacances à portée de main !


En prime, vous trouverez sur le
shop
en ligne une sélection de matériel et accessoires indispensables à votre pratique. Le tout est disponible en
Click & Collect Uniquement.


Envie de continuer la journée ou le
week-end
sportif ? Vous retrouvez à proximité le parc
Aqualudia
Muret mais aussi au Karting de muret.

Pour en savoir, découvrez notre article Bienvenue chez eXtrem ride Park à Muret !


Découvrez nos activités nautiques et outdoor :
Aquapark
Aquapark type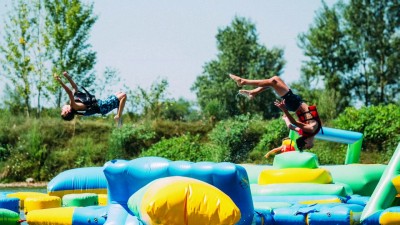 Environment : Lake
Public type : Children | Adults
Included
JacketWetsuitHelmet
Unusual offers
Enterrement de vie de jeune fille, jeune garçon...
Wake & Ski Cable
Activities type
WakeboardWakeskateWater skiKneeboard
Modules
3 Kickers
2 Box
1 Rail
Structures
1 Two towers
Prestations type
Free sessionInitiationCoaching
Included
WakeboardSkiSkateboardKneeboardJacketWetsuitHelmet
Difficulties of the spot
EasyMedium
Public type
ChildrenAdultsDisabled
Advice level swim
BeginnerMid levelExpert
Paddle
Activities type
PaddleYoga paddle
Course
paddle yoya
Course description : paddle yoya
Prestations type
RentalInitiationCoachingCamps
Public type
ChildrenAdults
Minimum age
De 8 à 12 ans accompagné d'un adulte
Advice level swim
BeginnerMid levelExpert
Waterjump
Other activities
Other activities
Blob jump, motocross
Services
Disabled access

Parking

4G or WIFI

Showers

Locker

Equipment rental

Coaching

School

Association

Shop

Restaurant

Hotel

Multilingual

Swimming area
Take advantage of prices packaged with : Extrem Ride Pass.
18/06/2022 - 30/08/2023
Réservez votre session d'une heure de wakeboard avec Extrem Ride park, le spot de Muret.
Wakeboard
15/08/2022 - 21/08/2024
L'Ecole de pilotage Extrem Motorschool propose des SESSIONS motocross pour les enfants de 6 à 16 ans...
Other
Videos
On mobile, double click to switch to full screen and exit
Accommodations near your activities
Season
From 03/04/2022 To 30/11/2022
Accommodations near your activities