Health rules and regulations
The spot welcomes you according to the sanitary provisions in force.
Description
On the lake of Bonnets, EXTREM RIDE PARK, a real concentrate of extreme sports to experience new thrills. At the heart of this green and responsible zone; OFF-AXIS WAKE, 1st Toulouse twin-pulley, perfect for learning about the joys of skiing!
Water Jump, water park, wakeboard, paddle, aquaparks, motorcycles (kids), etc., on one and the same spot.
Whether you are a beginner or an experienced rider, come to this water park and cable park in Toulouse. You will receive quality advice from a passionate and committed team.
For beginners, come and learn in complete safety thanks to supervision by qualified instructors. For the confirmed, come and improve your skills in your favorite water sports.
Board sports, water sports and their thrills are waiting for you on this spot at Muret Plage.
On the shop on the spot or in click and collect, you can find wakeboard boards, helmets, hats, shoes and all the quality equipment you need.
Want to continue the day or the sporting weekend? You will find nearby the Aqualudia Muret park but also the Muret Karting.
Aquapark
Aquapark type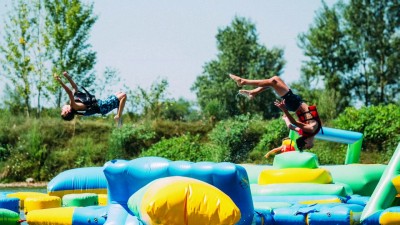 Environment : Lake
Public type : Children | Adults
Included
JacketWetsuitHelmet
Unusual offers
Enterrement de vie de jeune fille, jeune garçon...
Wakeboard & Waterski cable
Activities type
WakeboardWakeskateWater skiKneeboard
Modules
3 Kickers
2 Box
1 Rail
Structures
1 Two towers
Prestations type
Free sessionInitiationCoaching
Included
WakeboardSkiSkateboardKneeboardJacketWetsuitHelmet
Difficulties of the spot
EasyMedium
Public type
ChildrenAdultsDisabled
Advice level swim
BeginnerMid levelExpert
Paddle
Activities type
PaddleYoga paddle
Course
paddle yoya
Course description : paddle yoya
Prestations type
RentalInitiationCoachingCamps
Public type
ChildrenAdults
Minimum age
De 8 à 12 ans accompagné d'un adulte
Advice level swim
BeginnerMid levelExpert
Waterjump
Other activities
Other sports
Blob jump, motocross
Services
Disabled access

Parking

WIFI

Showers

Locker

Equipment rental

Coaching

School

Association

Shop

Restaurant

Hotel

Multilingual

Swimming area
Take advantage of prices packaged with : Extrem Ride Pass.
Videos
On mobile, double click to switch to full screen and exit
Accommodations near your activities
Season
From 03/04/2021 To 30/11/2021
Accommodations near your activities