Health rules and regulations
The spot welcomes you according to the sanitary provisions in force.
Description
Welcome to eXtrem Ride Park !
Located on Lac des Bonnets, eXtrem Ride Park is the Top destination for outdoor recreation and family sports outings around Toulouse!
In the heart of unspoiled nature, the whole team invites you to discover, with friends or family, our thrilling activities.
OFF-AXIS WAKE, the 1st Toulousain twin-pulley water ski lift, perfect for learning the joys of skiing! But also ; the unmissable Waterjump with five ramps, the popular Kids Motorcycles / Quads Stages or the very popular Blob Jump, to name a few, will satisfy young and old.
As for those who seek above all to relax and polish their tan while sipping their refreshment, rest assured! The 200m of white sand beach, judiciously complemented by a snack bar style guinguette as well as many other quality services (Playgrounds, Chill-zones, ..) will help you find sun and rest.
Surrounded by an exceptional landscape thanks to the Pyrenean peaks on the horizon,
you simply have THE best discovery of YOUR vacation at your fingertips!


As a bonus, you will find on the
online shop
a selection of equipment and accessories essential to your practice. All available in
Click & Collect Only.


Want to continue the day or the
sporting
weekend?
You will find nearby the
Aqualudia
Muret park but also the Karting de Muret.

To find out, read our article Welcome to eXtrem ride Park in Muret !


Discover our nautical and outdoor activities:
Aquapark
Aquapark type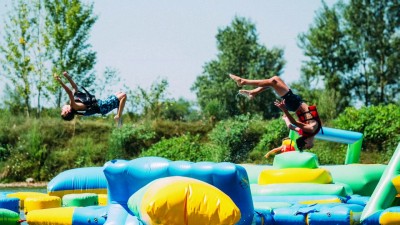 Environment : Lake
Public type : Children | Adults
Included
JacketWetsuitHelmet
Unusual offers
Enterrement de vie de jeune fille, jeune garçon...
Wakeboard & Waterski cable
Activities type
WakeboardWakeskateWater skiKneeboard
Modules
3 Kickers
2 Box
1 Rail
Structures
1 Two towers
Prestations type
Free sessionInitiationCoaching
Included
WakeboardSkiSkateboardKneeboardJacketWetsuitHelmet
Difficulties of the spot
EasyMedium
Public type
ChildrenAdultsDisabled
Advice level swim
BeginnerMid levelExpert
Paddle
Activities type
PaddleYoga paddle
Course
paddle yoya
Course description : paddle yoya
Prestations type
RentalInitiationCoachingCamps
Public type
ChildrenAdults
Minimum age
De 8 à 12 ans accompagné d'un adulte
Advice level swim
BeginnerMid levelExpert
Waterjump
Other activities
Other sports
Blob jump, motocross
Services
Disabled access

Parking

WIFI

Showers

Locker

Equipment rental

Coaching

School

Association

Shop

Restaurant

Hotel

Multilingual

Swimming area
Take advantage of prices packaged with : Extrem Ride Pass.
Videos
On mobile, double click to switch to full screen and exit
Accommodations near your activities
Season
From 03/04/2021 To 30/11/2021
Accommodations near your activities