Canoe - Kayaks : A fun activity to have a good summer


Summer is just around the corner, and you still don't know what to do. After a complicated year, between confinements, travel restrictions, and curfews, what better than to have a good timewith family or friends while canoeing / Kayaking under the beautiful summer sun ?
It's a verry famous activity and taken by storm during the summer because it allows to enjoy the magnificient landscapes of France, and to discover places inaccessible on foot or by car. Perfect for having a good time, i will show you where to practice it in the best places in France through Spotyride.
Canoe - Kayaks : Two differents boats not to be confused !


There are two types of boats :
- The kayak, it probably comes from the indigenous peoples of the arctic regions, where it was mainly used for transport, hunting and fishing. Constructed of reindeer bone, antlers and covered with sealskin.
- The canoe over 8000 years old was used as a means of transport by the indians of canada, Polynesians and Eskimos. Armed with a paddle and on their knees, they used it as a means of transport to go up or down rivers. It was made by digging into a tree trunk.

The very first international federation was born in Copenhagen in 1924, and it was the same year that the first demonstrations on the Seine took place on the occasion of the Olympic Games in Paris. In 1931, the french Canoe Federation was created, and it was in 1932 that steps were taken to include the sport of paddling in the program of the Olympic Games in Berlin in 1936. These steps were to be successful and canoe-kayaking would hencefort be an Olympic sport.
A sport to be found in the most beautiful places in France
1/ Canoë du pont Du Diable (Occitanie, Hérault)
In the heart of the great site of Saint-Guilhem-Le-Désert (classified as one of the most beautiful villages in France), the canoes of the pont du diable offer you the opportunity to discover the gorges of the hérault and its giant pots. A splendid site which attracts visitors from all over the world.
You can canoe on several courses to vary the pleasures, a getaway on the water, in a spectacular rocky corridor that will start under the magnificent and mysterious pont du Diable. It is said that the devil himself fell from the bridge to find himself sucked into the Hérault. It's just a legend of course does not prevent many people from swimming there.
A site to find here : spotyride.com/spot/les-canoes-du-pont-diable






2 / Patrick LAKATOS - Nature canoeing river guide (activity bookable on his page, Occitanie, Lot)
Lotois friends and tourists from other horizons, this is the place to come ! Patrick, a nataure enthusiast, offers you a unique experience in the Dordogne but also int the Lot and Célé. Peace of mind and his passion the river are what he seeks to share with his small groups of up to 10 people.
Come and discover the flora and fauna of the Dordogne, treasures that still amaze even people who have already sailed on the Dordogne. Create a time bubble and return to childhood, the wonder across a river, under a flow of cool shade or in a bath of light. A magnificent place which deserves to make a passage there. To book activities go here :
spotyride.com/activite/excursion-canoe
3/ Loire Kayak (Centre-Val de Loire, Loir-et-cher)
Fot nature lovers, the Loire is the ideal place for a canoe trip. It is the longest river in France, which allows canoeing of several days in autonomy, alternating canoeing, kayaking, tours and tasting. Throughout your descent you will be able to observe the towns and castles classified by UNESCO as world heritage of humanity in 2000. Change of scenery guaranteed from the first paddle stroke, admire this natural space as far as the eye can see, the Loire offers a perfect place to set up your bivouacs and enjoy nature ! 6 different walks to do with Loire Kayak, this is where it happens !
https://spotyride.com/spot/loire-kayak
4/ Canoë Kayak Club de L'III Sélestat (Grand-Est)
The ill is a French river which bathes the plain of Alsace. It is an important tributary of the Rhine therefore the course follows a more or less parallel trajectory. You will discover the riches of Center-Alsace accompanied by a canoe-Kayak instructor and a Nature guide. Come and discover nature in its purest form, peacefully listen to the song of the birds while being installed in your canoes. To see the page, I'll meet you here :
spotyride.com/spot/canoe-kayak
5/ Canoë-kayak Val de Risle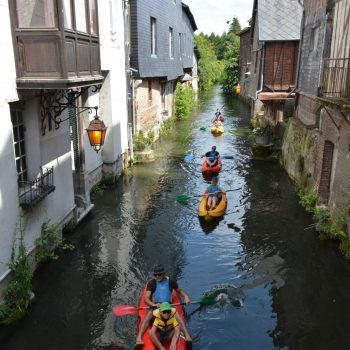 Discover the Risle by Canoe-Kayak ! This is how it will best deliver the richness of its natural environment : Irises, trout and dragonflies accompany kayakers on their journey. It is a calm river which presents some passages of living water. Finally, as it winds through a flat-botoomed valley, you will enjoy a magnificient and well-cleared landscape. From may to october, the descent of the risle by canoe is an essential source of pleasure to spend an unforgettable moment with family or friends.
Three different routes available, for more information go here :
spotyride.com/canoe-kayak-val-de-risle
Here are some places where you can book directly
- Are you looking for places in the South to book your canoe trips? This is where it happens at water gliss passion! In a natural and unspoiled setting, we invite you to discover the tip of the Sardinals, a true wonder of Sainte Maxime. Many activities to discover in addition to canoeing. Do not hesitate to make a reservation :
spotyride.com/spot/water-glisse


- Riviera Water Sport, a team of dynamic and qualified enthusiasts with one goal: to make your vacation unforgettable! We invite you to spice up your holidays in the Gulf of Saint-Tropez by practicing one or more nautical activities. Discover the idyllic landscapes by oars, sail or motor. Many activities await you! Book directly here
spotyride.com/spot/riviera-water-sports
Read more :
- 5 canoe and kayak destinations in the south of France
- Interview : meet Emmanuelle champion & surfer
- The worlds most beautiful canyoning spots